Sex Education is considered one of the finest series made by Netflix. The show deals with the fictitious Moordale Secondary School and its students, teachers, and parents as they navigate interpersonal conflicts. Season 3 of the show had a bittersweet ending. Otis finally made peace with his new sister and he and Maeve got back together. But the saddest part was when Maeve had to leave for further studies and once again, the separation becomes the ultimate truth. Even though the ending of the show's third season left fans heartbroken, they are waiting eagerly for season 4 of Sex Education.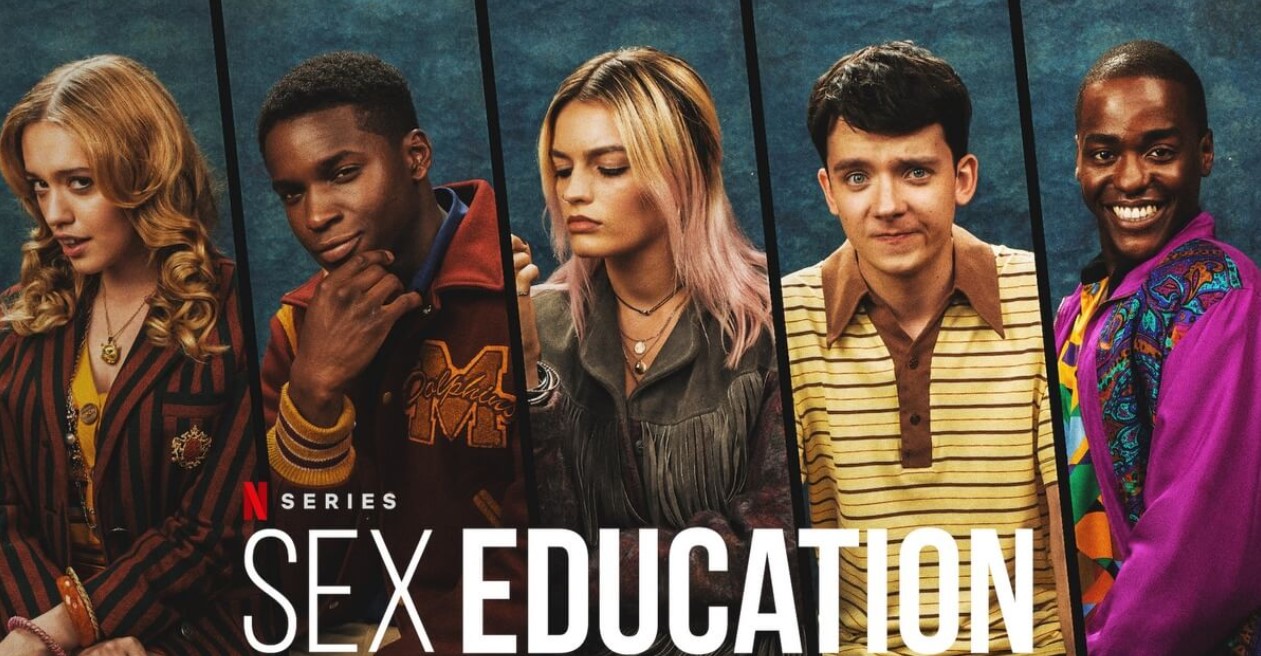 The good news is that we have brought you all the updates and goss you need about the show's fourth season. Who's the new entry, who is returning, when the show might release, and much more. Read more to find out.
ALSO READ: Here's One Thing Otis Does In Every Season of 'Sex Education', and It's Not Falling For Maeve
Who is the new entry and who all are returning for Sex Education season 4?
First of all, let's talk about the new entry in the show. It's none other than Schitt's Creek fame Canadian actor Dan Levy. Some time ago, the first look of the show was out. It included a picture of Dan with Emma Mackey where Dan clearly looks like a professor. Hence, it can be concluded that Emma's character might be encountering him when she goes to the United States for her educational program.
A few months ago, sadly, some of the major cast members of the show announced that they won't be returning for the show's season 4. This includes Patricia Allison who plays Ola Nayman on the show. Following her was Simone Ashley, who said that she won't be returning because of her commitments with yet another Netflix hit, Bridgerton.
ALSO READ: Neil Patrick Harris Lauds 'Sex Education's' Ncuti Gatwa for Being "The first gay doctor", Says It Is Going to Be "Super Cool, Sexy"
Let's move on to who all are returning. The very first is the show's lead, the Milburn family aka Otis and his mother Dr. Jean aka Asa Butterfield and Gillian Anderson, respectively. Otis's two closest in the show i.e, Eric Effiong (Ncuti Gatwa) and Maeve Wiley (Emma Mackey) are of course returning. Other than them, Mr. Groff (Alistair Petrie), Mrs. Groff (Samantha Spiro), Ruby (Mimi Keene), Cal (Dua Saleh), Isaac (George Robinson), and Jackson (Kedar Williams-Stirling) are also returning.
Other than that, a vital piece of information is that the show's shooting in Wales. You can see it all in a YouTube short from Netflix's channel Still Watching Netflix. The release date hasn't been finalized yet but it's expected to be out around the beginning of the year 2023. Let's keep our fingers crossed that Sex Education season 4 releases as soon as possible.
ALSO READ: Courtesy to 'Stranger Things' 4, We Now Know Where Otis Got His Fashion Sense From in 'Sex Education'
Until then, binge the rest of the seasons of Sex Education on Netflix.