There is no actor like Ryan Reynolds that could've filled Deadpool's shoes. The movie's success is proof enough of that. Released in 2016, the movie is based on DC Marvel's comics just like most superhero movies. One of the many reasons that made Deadpool stand out was his humor which was an addition to the character's superpowers. To Ryan Reynolds, this was an easy task considering his natural humorous style of speaking. To add to it, the actor's study about Deadpool was beyond scripts, and that benefited him greatly.
This was not the first time that Ryan Reynolds played a superhero. His previous superhero movie Green Lantern came and went as fast as Green Lantern's superpower speed. But perhaps what contributed to the success of Deadpool was more than just good acting and humor. Something that connected Ryan to the movie as a fan resulted in a good outcome.
The fact that made Ryan Reynolds a fan of Deadpool
Way before Deadpool was made into a movie, Ryan had his eyes and mind on it. The actor was a huge fan of the superhero ending up as a lead character. Similar to Henry Cavill reading The Witcher series, Reynolds had also been reading Deadpool comics for a decade. This enabled him to view the character not only as an actor but also as a fan.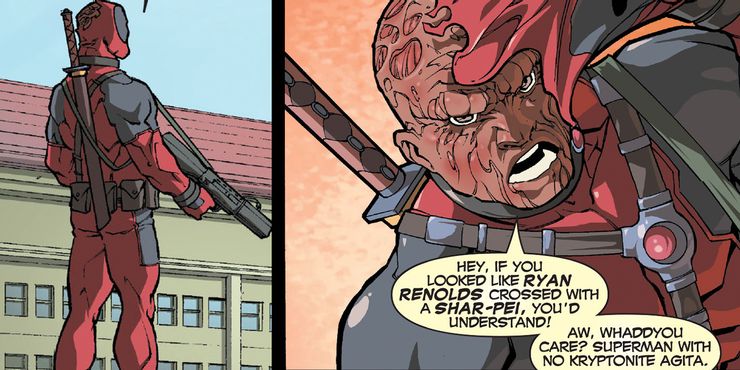 Coincidentally, Deadpool comics also mentioned that the character looks like Ryan Reynolds crossed with a Sharpei. Reynolds fell in love when he read that. The actor then went on to not only act but also finance and produce the movie so he could do justice to his favorite comic book.
Remember the Deadpool quote, "Life is an endless series of trainwrecks with only brief, commercial-like breaks of happiness?" The path to this movie's success was also not an easy one. Ryan had previously played a muted Deadpool in the X-men Origins: Wolverine (2009). The character was highly criticized for having a sewed-up mouth and doing injustice to Deadpool's character. Add to that the fact that Reynolds's superhero stint as Green Lantern was also a fail.
ALSO READ: Marvel's Deadpool Actor Ryan Reynolds Joins the Likes of Paul Rudd in Not Knowing the Name of an Important MCU Entity
The Wrexham Club co-owner listened to critics and made changes, firstly by giving back Deadpool's speaking abilities. Interestingly, it was his dialogues (some improvised by Reynolds) that made the movie so much fun. In the end, Ryan Reynolds, the Deadpool fan, managed to give the comic book fans the movie they deserved.
What do you think about Deadpool as a fan? Let us know in the comments.