The brutal monster butcher of The Witcher and the girl with telekinetic powers of Stranger Things are again here as the glorious Holmes siblings to crack down on the most mysterious cases in London. Henry Cavill portrays Sherlock Holmes in the movies, and his brand new look for the sequel is everything fans are pining for!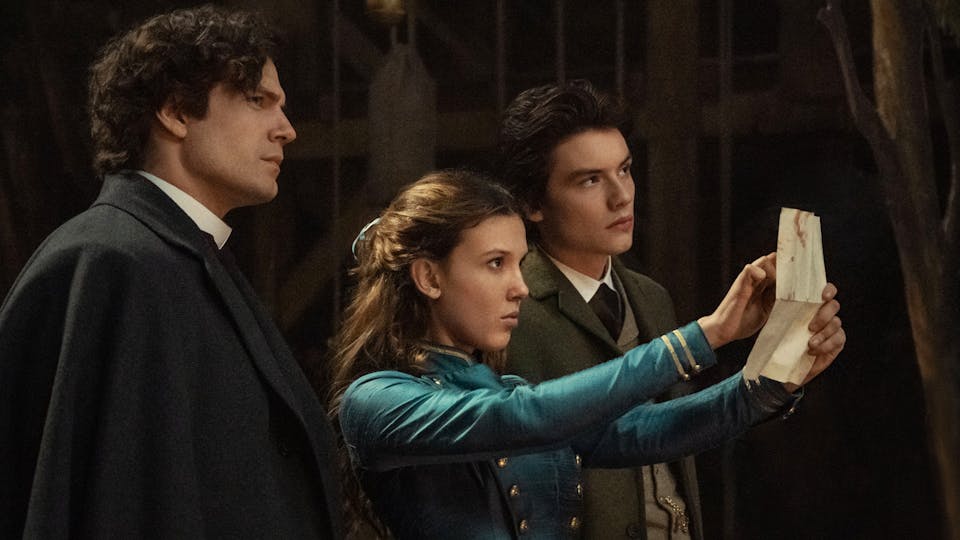 Netflix finally unveiled the trailer for its most anticipated movie of the year, Enola Holmes 2, at its Tudum event on Saturday. From what the teaser clip suggests, the younger sibling would skim through the alphabet and find clues in places unimaginable to prove her worth. However, let us also not underestimate the legendary Sherlock Holmes himself. The British actor has once again nailed the fit, and his rendition of the detective would just keep you on the edge of your seat.
As the streaming giant tweeted the 2-minute clip yesterday, fans gathered to bask in the glory of the most exuberant creation of Arthur Conan Doyle.
Fans are head over heels for Henry Cavill in Enola Holmes 2
Cavill has this knack for playing some most intense and complex characters ever made in history. While the newly launched trailer hints fans will get more of Superman actor, the 39-year-old Britt has already set their hearts on fire through a few glimpses of his splendid work. From the comments section of Netflix's Saturday tweet, one could safely say that fans are head over heels for his detective avatar as they almost go into the fangirling mode for none other than the very handsome Henry Cavill.
Right he's plays such a good sherlock

— Thedoctor10 (@thedoctor10D2) September 24, 2022
Watching for shirtless Henry Cavill.

— Love, Danny 🎡 (@DannyWxo) September 24, 2022
Well, who wouldn't want to feast their eyes with a brim full of shirtless Henry Cavill?
Looks great 🥰🔥 can't wait to see it #EnolaHolmes2 #TUDUM #MillieBobbyBrown #HenryCavill

— White Wolf ✵‿.•*´¯*✵ (@WhiteWolf_14) September 24, 2022
henry cavill was born to play sherock

— deserted scope 📝⚰️ (@DesertedScope) September 24, 2022
IT LOOKS SO GOOD AND FUN LETSSSS GOOOO 😍😍😍😍 #EnolaHolmes2 #TUDUM #Netflix #HenryCavill

— ❥ ҉ Henry Cavill Superman (@xenia_9755) September 24, 2022
sherlock can breed me

— mockiana (@draghoen) September 24, 2022
La vere por la trama. 🥰
La trama: pic.twitter.com/w77JTpFkBF

— Nancy Ventura (@nventu_ra) September 24, 2022
A few fans are also trying their luck to get Enola's brother's number! Perhaps they will need to have the mind of a detective to get what they desire.
Enola, can I have your brother's number?😗

— Grace Flowers (@Spyofyourdreams) September 24, 2022
Henry daddy

— Saanvi (@hoaxxcorp) September 24, 2022
Daddy Cavill is back.

— Dear John (@jpnazareno_3) September 25, 2022
I'm glad to see Henry's Sherlock will have a much bigger role this time!

— Don (@sterlingcouper) September 24, 2022
Are you excited to see Henry Cavill play Sherlock Holmes in the most iconic way possible? Let us know in the comments below. Enola Holmes 2 will be on your screen on November 4th with yet another mind-boggling mystery. Meanwhile, if you haven't watched the parent movie, go stream it right away, only on Netflix.
ALSO READ: "She is both 16 year old and 35 year old at the same time&:" When Henry Cavill Couldn't Stop Praising His 'Enola Holmes' Co-Star Millie Bobby Brown
Also, stay tuned with us to find more clues about your detective fiction ever made in history.