No matter how modern and advanced we will be, survival skills are always the most essential need to exist on earth. Snowflake Mountain a Netflix show talks about this. A bunch of spoiled kidults has to learn the surviving skills with the basic essential facilities. Staying near nature, they learn to live without their luxurious items. The winner gets a huge cash prize. But what these kids are doing in their real life? Let's find out about the lives of the cast once they came back from the mountain.
What is the Snowflake Mountain cast doing in the real world
Living without the luxuries that you cannot imagine living without is hard. The struggle of living without your phone is unimaginable. The pain of living without branded items is not something that one wants. Yet, these kidults got a surprise when they went on a holiday that their parents had planned for them.
After all the struggle and pain, one kid won the competition of surviving in the woods. Now, what happened to them when they came back from the trip and into their lives? What the cast members are doing in their real lives? Let's find out here.
Deandra
From the very beginning of the competition, when they reached on top of the mountain, Deandra started to miss her makeup materials. From complaining to winning the competition, Deandra covered a long way. Now, in real life, she is a business owner. She has opened a hair and makeup studio, BeauDEEland with her best friend Shea. We have seen her love for makeup on the show. "I've been doing makeup for eight years, so it's great to finally have a mini home for it," says Deandra.
Also Read: Is 'Snowflake Mountain' on Netflix a Live-Action Adaptation of 'Total Drama Island'?
Sunny
The transformation in Sunny on Snowflake Mountain was powerfully wonderful. He finished the competition as a runner-up. Sunny is using this experience and strength in his next project. Since they started filming this show, Sunny had been working on getting the funds for a documentary about the victims of the alternative music scene in the 2000s and 2010s. He says. "I learned to follow through on any and everything without fear of failure."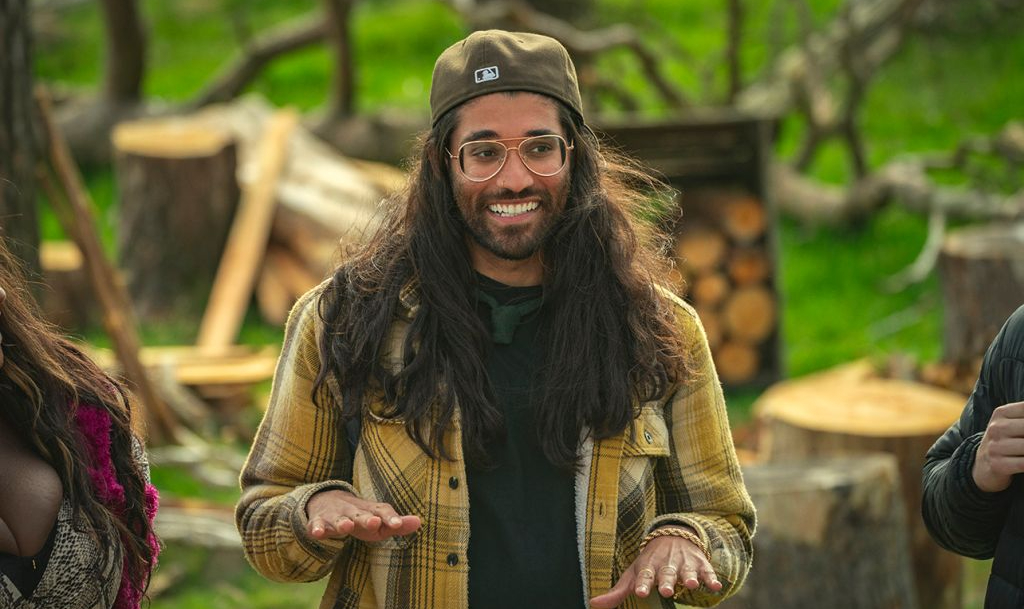 Liam
This show has indeed brought some major changes into the lives of these cast members. He is now living his "best adult life". Liam is working in the fashion industry at In The Style. He gives credit to the series for bringing this much change into him. Liam tells Tudum that because they didn't have phones or contact with the external world, they decided everything themselves. This was a big change for him, as he used to run to his family whenever he had to decide anything.
"I've been really maturing and navigating my way through adulthood," says Liam. He is also in very close touch with his co-stars. He and his Brit babe, Rae, are very close and he claims she is his friend for life.
Rae
As Liam says, he and Rae are friends for life. Well, they learned similar lessons from the show. Rae admits she gained more confidence to stand on her own. Time away from the phone helped her to think and focus on her needs. "Discipline equals freedom," says Rae.
Now, she is using her liberty to create a life full of happiness with her boyfriend. She just took a big step to move forward in her relationship by moving in with him. They have created a home and also adopted a dog. She is also connected to the fellow members and talks to them every day. They all are planning to meet next month.
Carl
Throughout the journey in the show, Carl suffered a knee injury. It got worse during the final challenge. He threw his pack, dislocated his shoulder, and ended up hurting his knee even more. They rescued Carl immediately to get medical attention. Well, he updated his fans with a post and informed them it's getting better.
Carl further says to Tudum that his life has been a journey with a lot of ups and downs. But he always pushes through.
Solomon
However, Solomon couldn't reach till the end, he learned from whatever journey he had in the show. He shares one of the best moments that he cherishes. Solomon also says that he is not taking anything for granted anymore.
Also Read: Snowflake Mountain Filming Locations Where Kidults Went For Bear Grylls Like Adventure
Now, Solomon wishes to share that feeling and experience with the rest of the world. He recently became an ordained bishop. He is focusing on creating Christian content. "Book me if you're getting married or having a funeral," he says.
Darriea
After the show ended, Darriea moved close to the ocean. She wanted to focus on writing and fashion. She is going to rent an art studio after recently publishing her book, Good Girl, with a small launch at an art and music festival. Being at the top of the mountain inspired her and gave her the courage to celebrate failure as well.
Olivia
Although Olivia was the first one to leave the show, she's the closest to Rae. Olivia moved to LA and now spending an abundance of time at the beach. She says that she's been working and having a good time with her friends lately. She is happy and grateful.
Randy
As the experience gave everyone one thing in common, and that is courage. Randy has thrown himself into pro wrestling. He's been traveling a lot around the Southeast wrestling. And when he's not in the ring, he spends time with his girlfriend.
Devon
The one who didn't like the attention is now in New York City to start an acting career. She's currently grieving the death of her best friend. She's tying to implement the learnings from the show while mourning her friend.
Francesca
Francesca is living her life and enjoying it to the fullest. She's spending her time with her fellow former contents Devon and Deandra, She's back to her routine of pampering, traveling, and spending time with her friends.
Looks like all these cast members are living their life a little differently than they used to. All of them took some valuable lessons from the show and uplifted their lives. Tell us who is your favorite and why? Also, if you haven't watched the show yet, stream now only on Netflix.
Watch Here: Snowflake Mountain