Disney has produced too many teenage stars that have become huge sensations later on. For Gen X, it was Britney Spears, Justin Timberlake, and Ryan Gosling. However, for the millennials, Miley Cyrus was the IT girl in the 2000s. She shot to fame overnight with her show, Hannah Montana. 
Eventually, she graduated from Disney and made a drastic change to her look and music. Ever since then, Miley has worn several experimental risky fashions. From her platinum blonde tresses to mullets to return to lovely curls, her hair has had a long history. Since shag cuts and wolf cuts are popular again, we cannot help but bring back this amazing mushroom hairstyle that Miley sported in 2021. 
ALSO READ: Remember When Miley Cyrus Was Shocked to Know That Ryan Gosling Was Her Neighbor
2021 Miley Cyrus hairdo: Updated Princess Diana-inspired mushroom haircut 
Miley Cyrus still wanted to keep things edgy in 2021, but she softened her look with a bit of wave and curls. It's impossible to ignore the striking similarity to Princess Diana's hairstyle when she was alive. Diana was a fashion inspiration when she was alive. From her outfits to her hairstyle, she had everyone's attention. If Cyrus had her hairstyle inspiration from the late Princess, oh well, we can't fault her for that. The newly styled look looks excellent on The Last song star.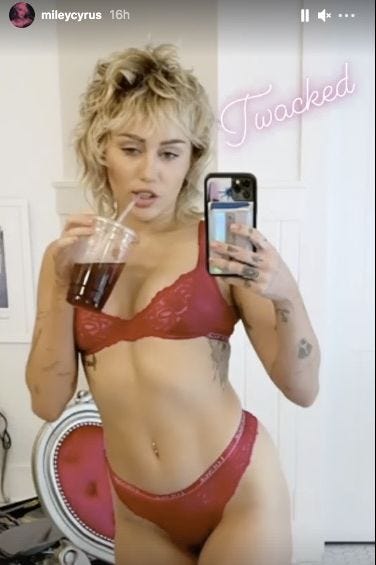 Currently, the Disney star sports a longer hairstyle. She had said goodbyes to the days when she had shaggy haircuts. Instead, now she has layers and a two-tone hairstyle. She has retained her blond locks at the top but has gone for darker low-light locks at the bottom. 
The singer-songwriter recently had a fallout with her father, Billy Ray Cyrus, over him dating Australian singer Firerose and divorcing her mother Tish Cyrus. She has even tried to reconnect with her ex-husband, Liam Hemsworth, to heal emotionally. However, the Australian has snubbed her every time. The 30-year-old has even bought a property in Malibu in her efforts to establish contact with Liam. Whether her friendly pursuits will bear fruits or not, we don't know, but she is happily dating Maxx Morando at the moment.
ALSO READ: "I love it so much": When Young Millie Bobby Brown Was Obsessed With Miley Cyrus' Song
Which hairstyle of Miley do you like more?