The supernatural drama Stranger Things, starring Millie Bobby Brown, has been breaking records since season 1. And the arrival of season 4 after a gap of three has changed things entirely. It was quick to become the Top 1 show streaming in 91 countries. Currently, the drama has received more than 1.15 billion hours of viewership, becoming the first show ever in the English language's history to get such stardom. With such popularity comes a whole load of fan theories.
Fans keep speculating and bringing new ideas and sharing them on social media. The same happened when season 4 arrived on Netflix: They went crazy over it. And one of these amazing theories was recently shared on Instagram, indicating an overlooked revelation at Suzie's house. Let's see what important hint Suzie's house gave for the Vecna finale.
Suzie's house was the manifestation of volume 2 warzone in Stranger Things
Recently, an Instagram user posted a shocking theory about Suzie's house that we had never thought of before. The post described all the things happening in her home and how later, all those D&D things came true in season 4, volume 2. The fan put all the scenes together in the video to prove his theory true. Let's break down this theory and see how that little house became a symbol of a massive battle.
ALSO READ: The Forbidden Kiss On 'Stranger Things' You Have All Been Waiting For Since Season 1
When Will, Mike, Jonathan, and Argyle go to Suzie's house in episode 6 of season 4, there is a group of children who had turned the house into chaos clamoring around. There is a sword war going on between two kids, hinting at Hopper's battle with Demogorgon in Russia. Moreover, a little girl was lying on the ground choking her throat, which gives way to Eddie Munson's death in Upside Down.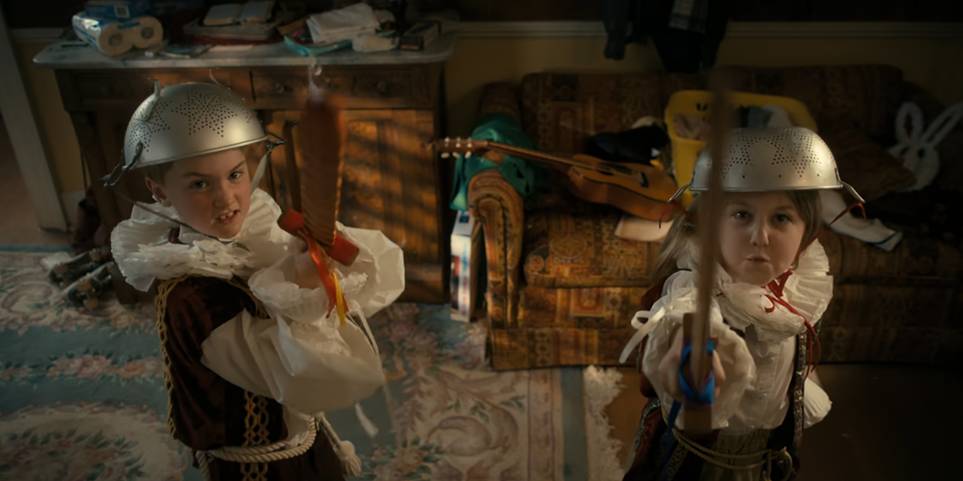 Meanwhile, in the kitchen, two kids were fighting over salt, foreshadowing Argyle using salt to put in an isolation tank. Last but not least, we have Suzie's attic that resembled Vecna's home in Upside Down, where Steve, Nancy, and Robin burn his body. You might are shocked to see this video of how we missed this revelation displayed by small kids.
While this theory may or may not be true, these fan theories are certainly interesting and fun. Do you have any such Stranger Things theory? Share them with us!
Meanwhile, stream all seasons of Stranger Things on Netflix, while we await updates on season 5.
ALSO READ: Natalia Dyer Reveals Why Dating Is "Really Tough" For Nancy Wheeler In 'Stranger Things'