Purple Hearts is a Netflix romantic drama, with shockingly high stakes at the end. This marriage of convenience puts both Cassie (Sofia Carson) and Luke (Nicholas Galitzine) in danger in some way. The odds are stacked against them. Also, it appears doubtful that things will go their way at the conclusion of the film. By the conclusion of Purple Hearts, the love between Luke and Cassie is able to transcend all obstacles, but the joyful ending comes with some uncertainties.
Purple Heart's two protagonists, Cassie, a struggling singer, and Luke, a soldier, have worldviews and lives that are very different. Cassie needed health insurance to adequately manage her diabetes. Luke needed the additional money to pay off a debt from an old conflict. Their blossoming relationship is put in jeopardy when the truth about their marriage is revealed, as the borders between phony and genuine feelings begin to blur.
ALSO READ: A Marriage of Love and Duty, 'Purple Hearts' Means More Than What It Appears to Be
Ending of Purple Hearts: Explained!
By the end of the film, everything that could go wrong has. Luke's former drug dealer, Johnno, has been using the truth about Luke and Cassie's marriage as a way to get money from Luke for the whole movie. Cassie is upset that Luke didn't tell her the truth about his past, which led to Johnno threatening Cassie's mother.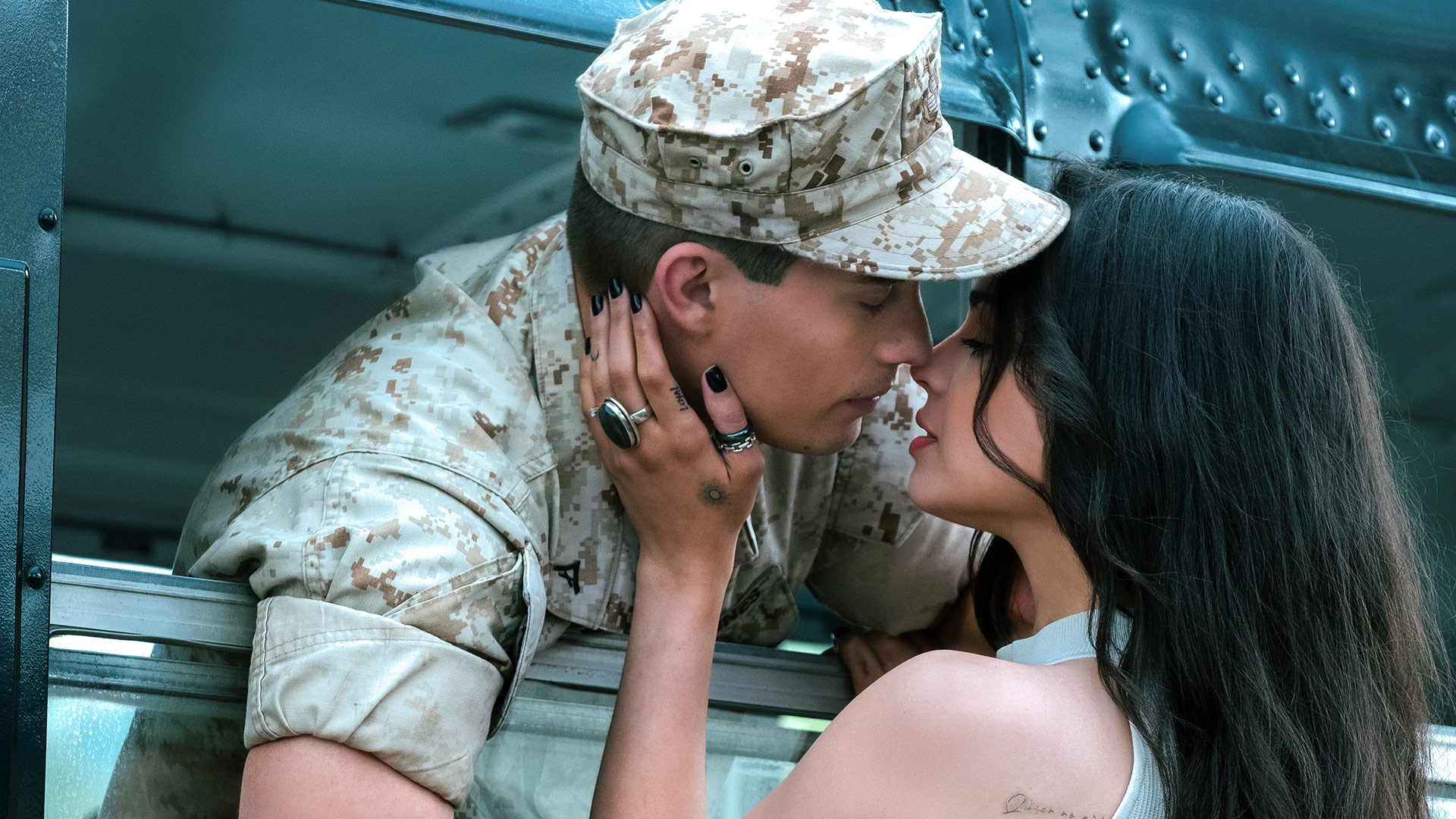 Because of this, Cassie breaks up with Luke and kicks him out of their apartment. Luke is then charged with fraud and tried by an MP. It is possible that Cassie could also be tried as a civilian for her part in what she and Luke did. In the end, Cassie and Luke's love is stronger than the impossible odds they are up against. Even though the end of their story is pretty clear, there are still some unclear parts.
ALSO READ: Sofia Carson And Nicholas Galitzine Have Fans Mesmerized With Their Beautiful Chemistry In Netflix's 'Purple Hearts'
But there are still a few questions regarding the end that might bother you. Let's see what could be the possible explanation for them.
What Causes Cassie to Return to Luke at the End of Purple Hearts?
Cassie's reaction to Luke pleading guilty at the trial for her role in the conspiracy that led to their marriage is evident. After the trial and the beginning of Luke's imprisonment, she rewatched their wedding video before her performance to remind herself of him. Cassie sings "I Didn't Know," a Purple Hearts song she composed about her growing love for Luke, during the event.
Cassie's singing and delivery get notably more passionate during "I Didn't Know." She learns that she truly does love Luke as she sings it. A few minutes before he is hauled into custody to carry out his sentence, Cassie goes to visit Luke after her show is over. Before Luke is taken from them, they come to terms with the fact that their marriage was, in fact, true.
ALSO READ: From Pretending To Prevailing: Netflix Releases The Trailer For 'Purple Hearts', A Story Of Music And Military
Why does Luke plead guilty in the end?
Luke was guilty of getting married to Chrissy just for convenience. He's already remorseful for what's happened. Since it was his troubled history that placed Cassie and her mother in danger and led to the revelation of the truth about their marriage. By presenting a statement before the trial claiming he pressured Cassie into an unlawful marriage, Luke is trying to make up for his actions and his increasing emotions for her. A dishonorable discharge and a six-month term await Luke if he admits guilt in order to rescue Cassie.
On the surface, Purple Hearts seems to be a love story. The Netflix film is fundamentally about the benefits of expanding one's horizons and embracing new experiences in order to become one's best self. Love can flourish even between the most improbable of topics, as Purple Hearts' conclusion demonstrates, despite its challenges.
Watch Purple Hearts on Netflix and let us know your views in the comments.
ALSO READ: Blurring the Line Between Real and Pretend, What Is 'Purple Hearts' All About?