Millie Bobby Brown made a name for herself in one of the largest industries in the world on her own. Millie is one of those young actors that quickly rose to fame due to her incredible performance on Stranger Things. She started out as a child actress, but the starlet is clearly transitioning to more mature roles as she turned 18 recently. 
Apart from her star status, she's known for her bubbly nature and for sharing a close bond with co-star Noah Schnapp. While their friendship is often in the news, she has another low-key bond with a Hollywood star kid, particularly with a Jolie-Pitt DNA. 
ALSO READ: Millie Bobby Brown Shares a 75-Years-Old Excerpt From Queen Elizabeth's Speech Mourning the Loss of the British Monarch
Millie Bobby Brown is friends with Zahara Jolie-Pitt and Shiloh Jolie-Pitt
Way back in 2018, Millie Bobby Brown was clicked with Brad Pitt and Angelina Jolie's Shiloh and Zahara at Starbucks. They were seen casually hanging out.
A year later, the trio hung out again, and this time they went on a lunch date together. Brown wore back shorts and paired them with an oversized blue shirt with a cute backpack. Shiloh looked comfortable in shorts and an oversized hoodie.
Since this was before Shiloh went through a dramatic makeover, she was still sporting a very short haircut. Following them was big sister Zahara, who looked effortlessly cool in an all-black outfit. The trio was spotted chatting and high-fiving each other.
ALSO READ: Millie Bobby Brown and the 'Stranger Things' kids created 'Chicken Noodle Soup' before J-Hope and Becky G?
Brown also extended an invitation to the Jolie-Pitt siblings to the Stranger Things season 3 premiere party. During best friend day, Brown also took the time to post a picture of them and tagged them. The caption read: "Best friends 4L." Talk about friendship goals!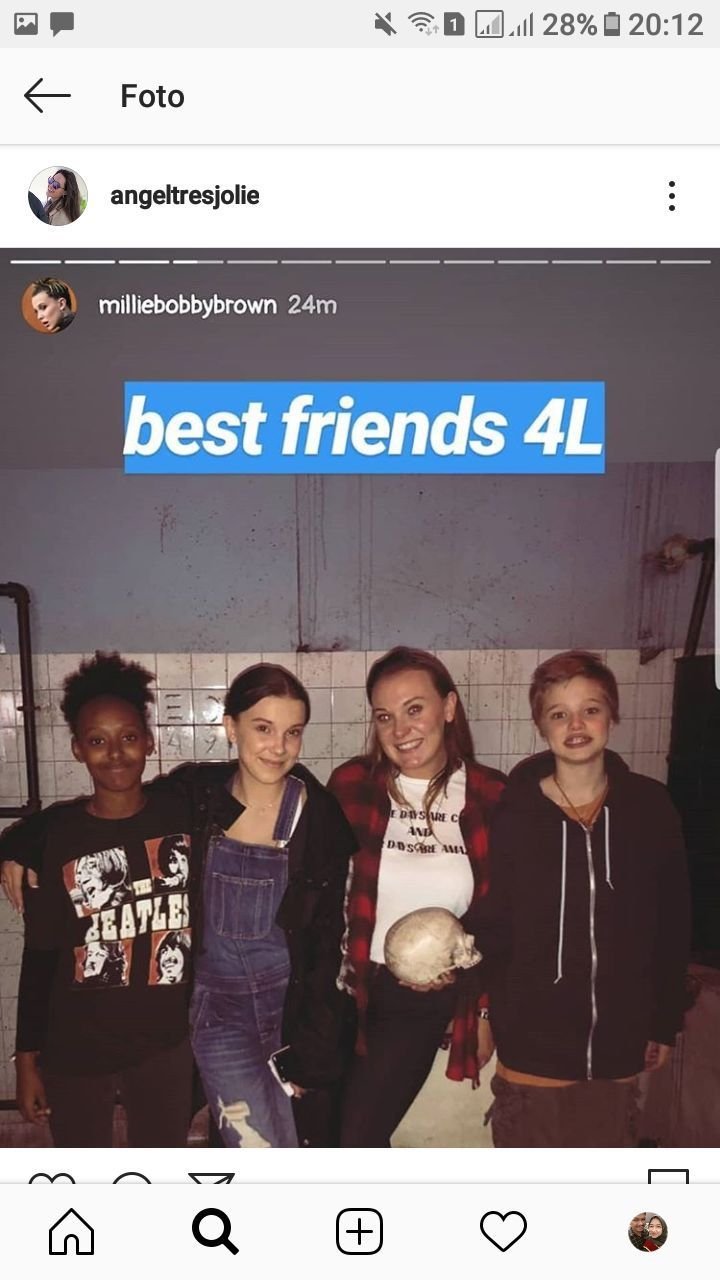 There are also speculations that Brown may have named her blushes Shi Shy after Shiloh! 
Omg, I think Millie Bobby Brown named her make-up Shy Shi after Shiloh?!?!?😭 pic.twitter.com/CLtQ32T9GJ

— 💫 (@thenajolie) August 14, 2021
Perhaps, they bonded over their love for dancing! Shiloh broke the internet when she performed About Damn Time at the Millenium Dance Complex, and Brown has been doing the same in her Eleven garb forever! 
Do you wish you get more or Shiloh-Brown content?