Stranger Things season 4 ended with a lot of cliffhangers. We also said goodbye to some of our favorite characters. Two such characters are Eddie Munson and Chrissy Cunningham. Ironically, Chrissy dies at the very beginning of the season, whereas Eddie does at the end. Both of them shared a total of two sequences in the first episode of the show. However, the internet is rife with the theory of Eddie's return in season 5. And we've already seen the 'Return of Hopper' in season 4, so anything is possible. But the question that's bothering a lot of people is, "Are Eddie and Chrissy Dating in Stranger Things 4?" Let's try to answer this question.
A preface to Eddie and Chrissy's Relationship
Eddie and Chrissy are two completely different personalities. On the one hand, Eddie is popular as the 'freak' of Hawkins High, whereas Chrissy is the 'Queen' of the same, according to Eddie. He is the head of The Hellfire Club, and she is the Head of Cheerleaders. She has a cheery appearance, whereas Eddie is known for his metal rock music. But as they say, opposites attract!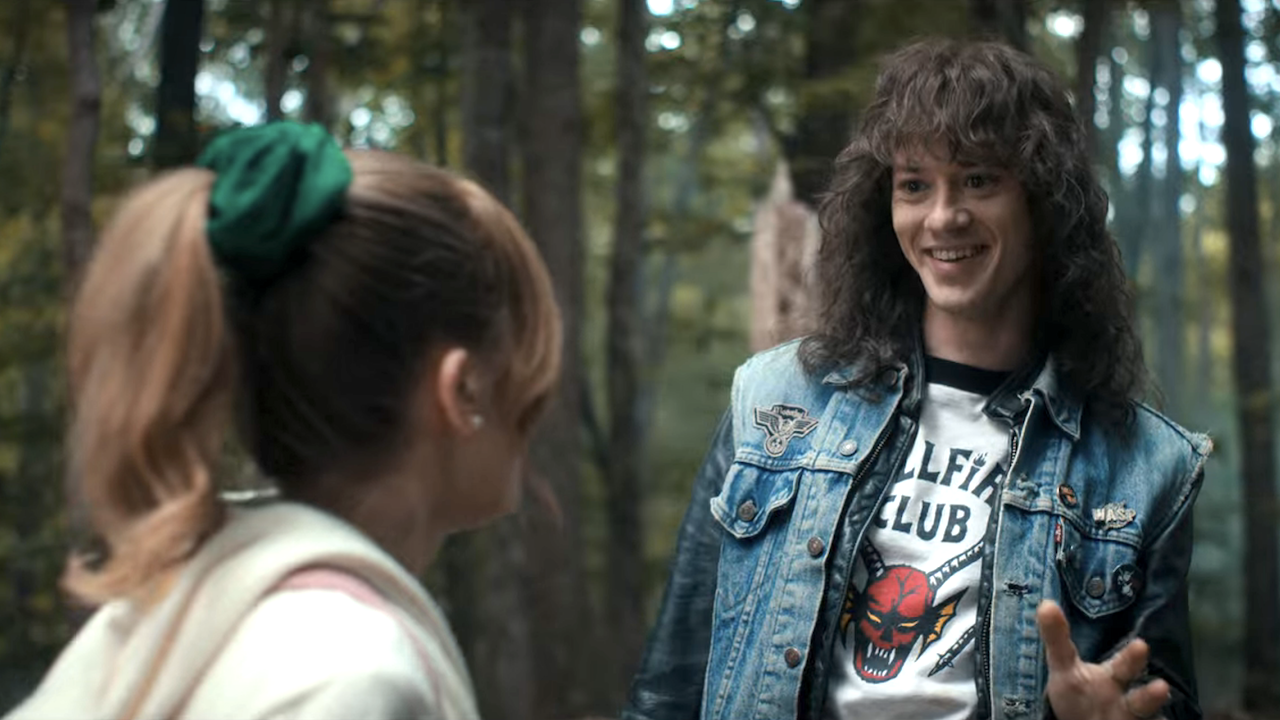 Despite their differences, they still have one thing in common. They're both really kind folks, who have quickly won over fans' hearts. These two meet in the first episode of the season after a long time. During their interaction, we come to know that they met at a middle school fancy dress competition.
Now that we are done with the preface, let's get to the actual question at hand.
ALSO READ: Heartbroken 'Stranger Things' Fans Want More for Eddie Munson and Chrissy Cunningham, the Queen of Hawkins High
Are Eddie and Chrissy dating?
Coming back to the answer to this question, why don't we ask this question to Eddie himself? Surprised? Don't worry; we're not going to the Upside-Down. By Eddie, we mean the actor Joseph Quinn, who played Eddie. He was recently asked the same question.
The actor says, "She has to feel safe enough with him to go back to his trailer, and he's a pretty kind of intimidating guy when we first meet him, so I think kind of it made sense for so let's be some kind of romantic intrigue there."
Our addition to this theory is that, in the final episode of Stranger Things season 4, as Eddie plays "Master of Puppets," he dedicates it to Chrissy.
This answers our question accurately that there was definitely a spark between them. In fact, some fans have already made a tag called "#Eddissy" and are obsessed with it.
Antis: "Eddissy is weird and wrong!!!"

Me: pic.twitter.com/c9WO71NU9I

— river the banished 🗡 | eddissy 🖤⛓ (@rivermethis) July 11, 2022
Them 💕#HellCheer #Eddissy #eddiemunson #ChrissyCunningham pic.twitter.com/462DVpN1Ah

— Milky🐟 (@MilkyWayMai_) July 9, 2022
They got me immediately #eddissy #StrangerThings4 pic.twitter.com/As01TBGghF

— Beau 💫 spoilers everywhere (@tetsarou) July 2, 2022
ALSO READ: The Tragedy of Eddie Munson and the Real-Life Satanic Fear Story That Inspired the Character's Arc in 'Stranger Things' Season 4
cause i'm just a teenage dirtbag, baby
yeah i'm just a teenage dirtbag, baby
listen to iron maiden, baby, with me 🎸🎶#eddissy #eddiemunson #chrissycunningham pic.twitter.com/hhilwdDbTH

— ☁️ sal ☁️ (@buriedbloom) July 3, 2022
Oh this edit of Chrissy and Eddie is CRUEL #Eddissy pic.twitter.com/MR5OJNtj0y

— aurora🌷 (@auroraboreyalis) July 3, 2022
Some fans went the extra mile and created edits, sketches, and whole fan-fiction with alternate endings.
Only the young can say
They're free to fly away
Sharing the same desire
Burnin' like wildfire

💘✨️ #eddissy #StrangerThings pic.twitter.com/svhiKZAHib

— Beau 💫 spoilers everywhere (@tetsarou) July 10, 2022
They both need hugs 💚
#eddissy #StrangerThings4 #eddiemuson #chrissycunningham pic.twitter.com/E626O1DAiC

— ✨ya like jazz?✨ (@supernovajazzy_) July 10, 2022
i looved the final stranger things episode!! especially when eddie and chrissy got to graduate together and she went to his concert and they made out at the backstage!! 🥲 #eddissy @GraceVanDien pic.twitter.com/xrvx0nhjEV

— ☁️ sal ☁️ (@buriedbloom) July 2, 2022
All in all, if these two were dating in the, it would've been the cutest and most dynamic couple of Stranger Things season 4.
Dear Eddie and Chrissy, We hope both of you are together in another world!
ALSO READ: 'Stranger Things' Creators Insist to "Find something else to do with Grace [Van Dien]", Regret Killing Chrissy Cunningham