The third season of Never Have I Ever on Netflix finished with a surprising boom, or should we say boink? Show's actors Maitreyi Ramakrishnan, who portrays Devi Vishwakumar, and Jaren Lewison, who plays Ben Gross, have real life chemistry as good as their on-screen one. Surprisingly, Jaren Lewison does refer to Maitreyi as "David," exactly like his character Ben does on Never Have I Ever, particularly when he reads a screenplay quickly.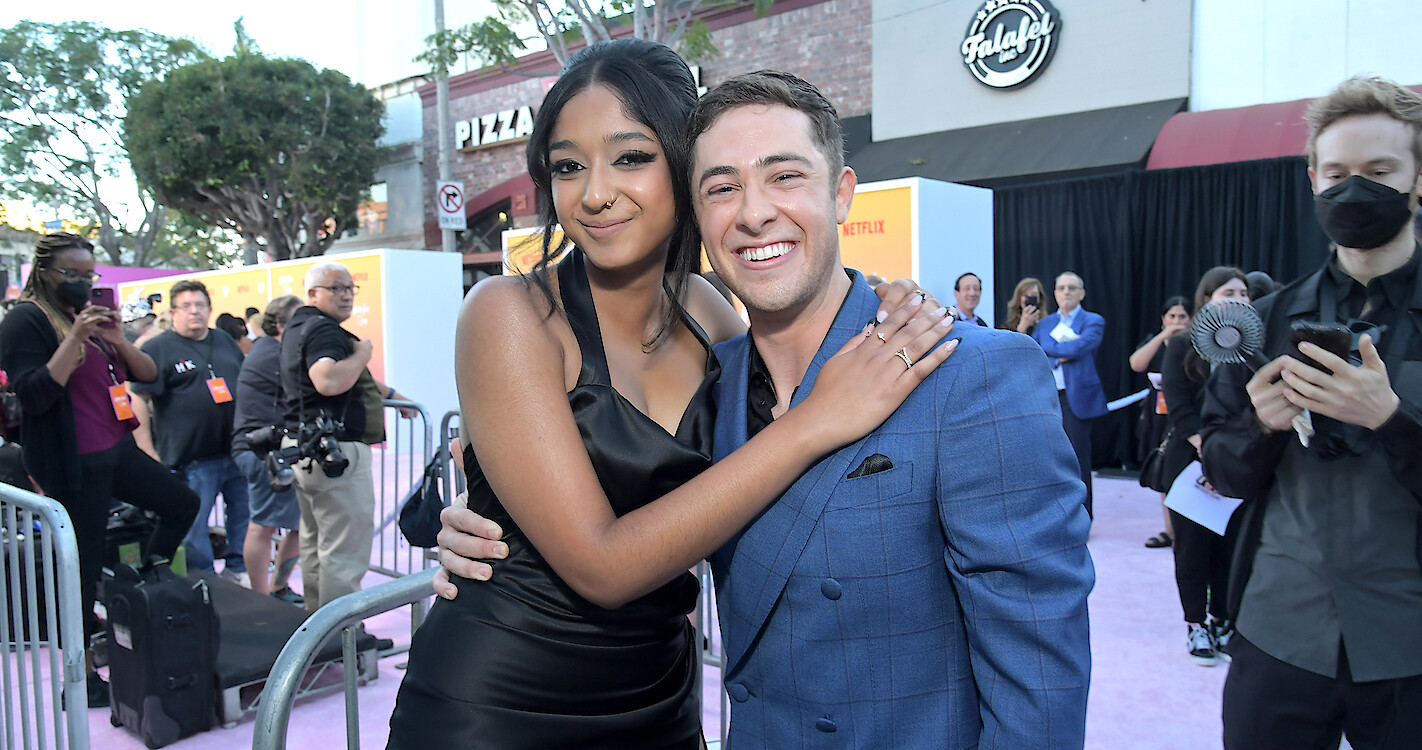 Ramakrishnan received a "flurry of messages" from Jaren after they received the script of the finale episode. Jaren was like, "David, David, David, did you read it yet? " This happened after Lewison finished reading the last scene in which Devi visits Ben's home to redeem her "One Free Boink" card. Two of them spilled beans on their friendship and the show recently in a Q&A session by Netflix's Tudum. Let's see what they've got for us!
ALSO READ: WATCH: Maitreyi Ramakrishnan Channel Her Inner Reality Show Judge As She Picks A Winner From 'Never Have I Ever' Cast
Never Have I Ever… had my own handshake
Two of them got nostalgic while talking about their first interaction. According to Ramakrishnan, Lewison "slid into [her] DMs" on Instagram. However, it was a very sincere and professional message. That's how the two first connected. Since they were in the same grade, Lewison remembered that they both had just graduated from high school.
He added further that he remember saying, "Hey, I know you're heading to Los Angeles." He too had recently relocated to LA as well. He said to Maitreyi that he was aware that it is the first significant event of her life. Jaren added that it is also his first "big thing".
Lewison just wanted to say "hello" and inform her that he is playing Ben Gross in the show. He added that he was excited to work with her. They had their first formal face-to-face encounter during the table read for the series, and they exchanged a handshake on the first day of shooting that they never forgot. Their handshake always ends with flipping the bird.
"We always come away and have a handshake," Lewison said of the Devi-Ben scene after it was successfully filmed. They've gotten so close that Ramakrishnan, whom Lewison calls "an unbelievable artist," created a picture of the two of them in the world of Avatar: The Last Airbender for his birthday. That's one of Lewison's favorite shows.
ALSO READ: Watch: 'Never Have I Ever' Starlet Maitreyi Ramakrishnan Beautifully Grooves to an Iconic Indian Dance Number
Their on-screen chemistry is one of the most amazing things about the show. What do you think?
Watch Never Have I Ever on Netflix.