Ever since Aeschylus, there has not been a single drama devoid of characters that we truly despise. There is a sheer charisma in these characters, something we couldn't find in anyone else. But they supposedly carry hatred even in their birth signs. And the ones like Dolores Umbridge (who appear to be good initially but show their evil side gradually) will forever be on the bad characters' list. Now, if we fast-forward to today's sensations, Stranger Things too has its share of such distinctiveness.
It has been a long time since we have bonded with El and her friends. And along the way, we have met many other Hawkins high students who secured a tiny place in our hearts. Others, such as the bullies of the school, Dr. Brenner, Mayor Larry Kline, etc. have proved to be true antagonists. Notably, after its fourth outing, Jason Carver is one such antagonist.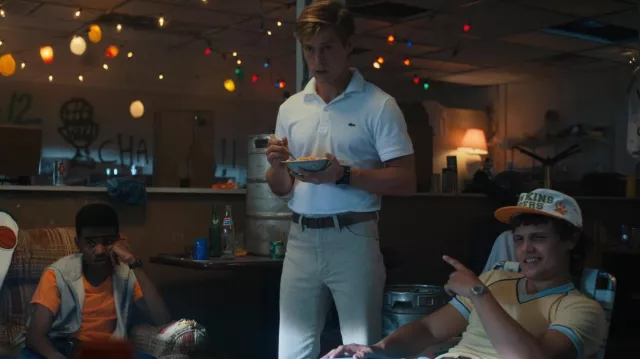 After the episodes of the latest season of Stranger Things premiered, fans have speculated many theories and connotations, and never missed a chance to comment upon some or other thing. Recently, a fan took to Twitter to share how deeply she loathes the Hawkins high basketball team captain. She also claims he should rather be in Riverdale than in this gore drama.
Jason Carver of Stranger Things gives Riverdale vibes to fans
Riverdale too is a teen drama in which Archie and the gang have to face sinister happenings and blood-thirsty criminals- all while diving deep through the troubled waters of romance, school, and family. There is no doubt why fans speculate Jason Carver should rather be in this teen drama.
Bro was in the wrong show. His whole vibe just screams riverdale 🤡 I can't believe I hate this guy more than Vecna in #StrangerThings pic.twitter.com/x7K5YxEiOK

— 🌙 (@395pages) July 2, 2022
Carver is a self-centered senior on the school basketball team in Stranger Things season 4. His perfect world goes down the drain when his girlfriend, Chrissy, is found dead in Eddie's house. He soon assumes that Eddie is a part of some deadly cult and is responsible for all the mysterious deaths of these vulnerable teenagers. And he then sets himself on the hunt of all the Hell Fire club dragging in his teammates too. Even his entry speech includes the horrific tragedies the town went through earlier with an intention of cheering up his team. Well, of course, some fans hate him more than Vecna!
ALSO READ- Lost Plotlines, Ruined Characters, And A Useless Death: Everything That Made Fans Hate Stranger Things 4 Volume 2
Maybe he is a victim of unaddressed incidents at Hawkins and is not as hate-worthy, but he surely gives Riverdale vibes. Do you agree, though, that Jason should crawl to another dimension from the world of the veins? Do you think he will fit into the Riverdale world? Feel free to comment down below.