Now when someone says Millie Bobby Brown, we cannot stop ourselves from thinking about a teenage child with a bald head and a bleeding nose. The Stranger Things star is a talented and versatile actor. To bring the character to life and to fully justify it, actors have to do everything they can. Millie also had to do the same. Hair is the most loved part of their bodies for any girl. So it was for Millie. So, how did she get inspired to shave her head for the show?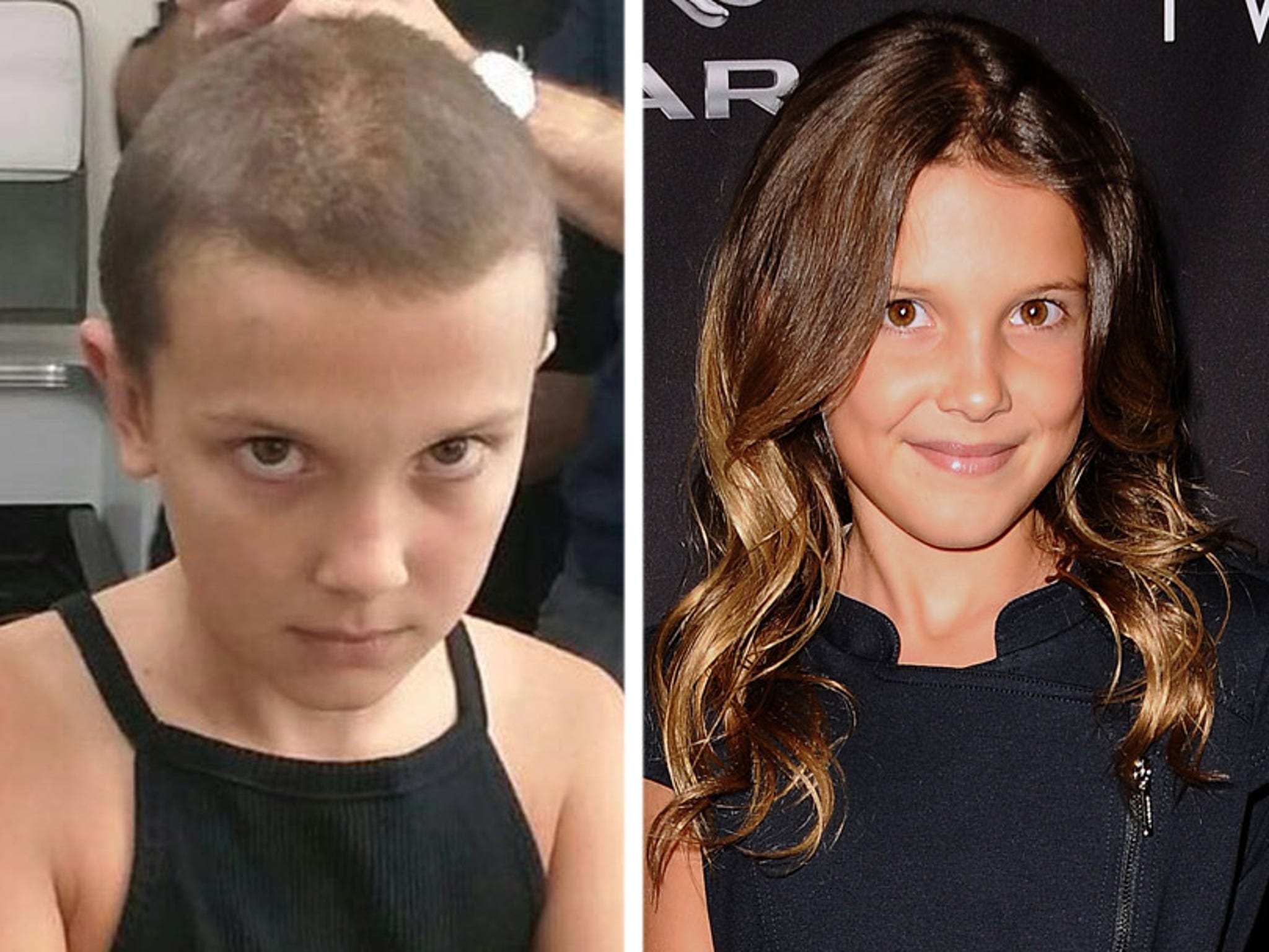 The sci-fi supernatural Netflix Original portrays characters and actions which are larger-than-life. The characters have superpowers. Millie is one of the central characters whose name is Eleven. She was the subject of scientific research. Because of that, she was bald at the beginning of the show. As the show moved forward, we saw the change in her look. But, what inspired her to go all the way with the biggest thing for Stranger Things?
ALSO READ: Here's Why Millie Bobby Brown Did Not Cut Her Hair For 'Stranger Things' Season 4
The inspiration for Millie Bobby Brown to go bald is…
Although the show is created in the 21st century, the timeline of the show is set in the '80s. The fashion, language, progress, music and everything around it was so different. Therefore, it might be a little different and difficult for the viewers to connect with some references from the '80s. However, Millie had to go through one of the biggest physical changes for her fictional character. Some references from back in the day inspired her.
The 12-year-old actress loved the look of Charlize Theron in a 1979 movie called Mad Max and loved her hairstyle. Brown's co-star, Winona Ryder, also showed her one of the original school pictures where she had short hair. However, Millie had pretty nice and long hair. But after seeing the picture and remembering Theron, Brown got inspired to go bald. "When Winona looked cool in back in the day, with you know, the pixie cut, and I thought, maybe I could bring it back," says Eleven. However, while actually doing so, her mother had to calm Millie down.
ALSO READ: Throwback to the Time When Millie Bobby Brown Lit Up Argentina With Fireworks
Well, she brought it back to the show and now she's slaying every style with her confidence. What do you think about the character of Eleven? Do you think it would have been this effective if Millie didn't have to shave her head? You can always re-watch the show here and enjoy the journey of these kids.