Over the years, in Cobra Kai many students have come and left the Miyagi Do. These departures have also been a part of the rivalry between all the dojos in the show. However, we witnessed the greedy and selfish side of Terry Silver when he betrayed John Kreese. John bribed the referee in the final tournament and tried to play with Robby's mind, making him bitter about his father. In the upcoming season, did he do this to another student? Is Johnny Lawrence going to lose any more of his students this season?
Cobra Kai snatches one more student from Eagle Fang Karate
The events at the end of the finale in season 4 already shook things up. In the finale, Miyagi Do and Eagle Fang lost to Cobra Kai, Terry Silver promised to open up franchises of his dojo, and Miguel ran off to Mexico to find his father. All these events have made the viewers impatient for the newest season. Adding to the eagerness, the official photographs of Cobra Kai season 5 reveal a shocking turn of events.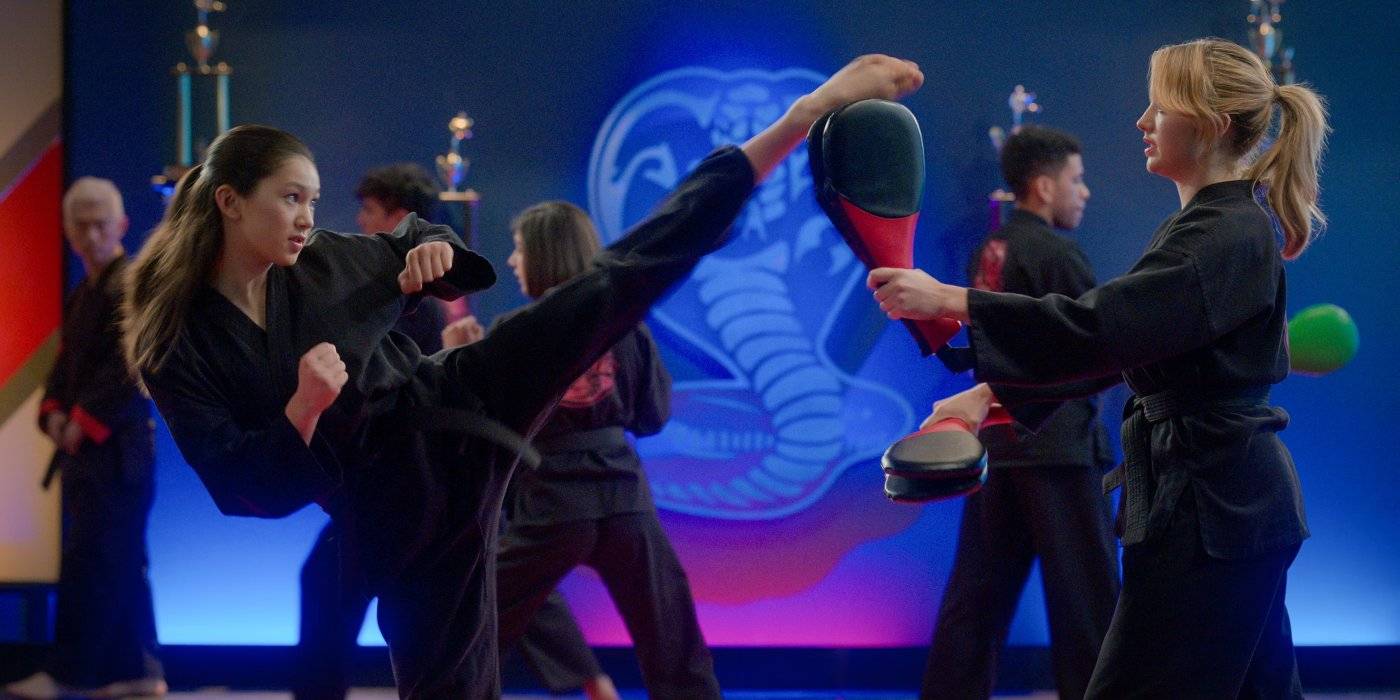 To add to the pile of Johnny Lawrence's problems, it is supposed that Devon will join Cobra Kai, leaving Eagle Fang behind. As shocking as it is, the reason might be that she has been little around to understand the dynamics. Also, she is the only female trainee at the dojo and hasn't spent much time there. These scenarios might have been the easy points for Terry to press and persuade her to leave her old dojo.
ALSO READ: 'Cobra Kai' Creator Hints at a Possible Death of a Hero in Season 5
More problems for Johnny
It was difficult enough for Johnny to deal with Robby and Miguel, to keep his dojo running, his newly formed friendship with Daniel LaRusso, and now the betrayal of students. Silver's financial strength to provide the students with expensive facilities might have also attractedDevon to join Silver's dojo.
ALSO READ: "Makes it sound like Mr. Miyagi is a vampire": 'Cobra Kai' Fans Point Out the Ridiculousness of the Ultimate Team-Up of Miyagi-Do and Eagle Fang
Devon's leaving also shows the influence that Cobra Kai has over the minds of the people, which adds to the problems of Johnny, Chozen, and Daniel. If these senseis cannot keep their students, it would be a much bigger problem for them, especially for Eagle Fang, as Devon was one of their finest fighters.
What do you think might be the reason for Devon to leave? Do you think it will increase her influence in season 5? Cobra Kai is going to release in September this year only on Netflix.