If there is any character who, despite his somewhat hated first appearance, quickly made the audience fall in love with him, it has to be Steve Harrington. Harrington was not the most beloved character in the first season of the show. However, Joe Keery, through his portrayal of the character, quickly made a place in the hearts of all through his charming and caring nature.
But above anything else, Joe's hairstyle is the most iconic and appreciated part of his character. But why are the fans suddenly afraid for the king of babysitters, and how is it related to his hair?
If you want to find out, then keep on reading.
The changed hairstyle of Joe Keery makes fans fear the fate of Steve
Since the first season of the show, the Duffer Brothers have never been afraid to spill blood and kill characters. And we aren't just talking about supporting characters like Barbara but major protagonists and antagonists like Bob Newby and Billy Hargrove.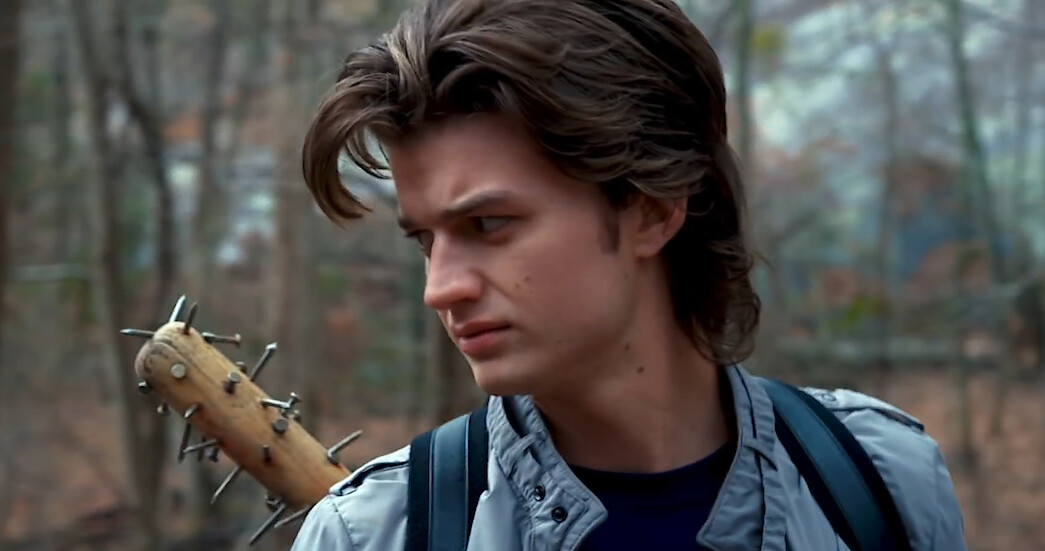 So now that fans are afraid that the next major character who might lose his life could be Steve Harrington, they are not completely wrong in doing so. And solidifying their fear has been Joe Keery's new hairstyle.
All lovers of the show know that Steve Harrington's iconic hair has been exactly the same since the first season. 
So when in a new recap video for Stranger Things 4, Joe was seen with short hair, fans were instantly triggered as to what it could mean for the life of his characters.
Many feel that now that Steve has cut his hair, he shall be killed off in the upcoming season(s) of the show. They even mentioned that Joe had a no haircut policy while playing Steve. So it must definitely mean he is no longer shooting for the show.
Joe Keery cut his hair and that, ur honor, is the biggest reason why I believe Steven Harrington will die. I'm sorry.

— 🎃imauselessartist👻 (@imauselessarti1) June 21, 2022
u know why i think steve harrington will die next season? Its cuz joe keery finally cut his hair…meaning…. the contract not to touch his hair has ended 🙂

— 🌞 tara (@heytarskiii) June 25, 2022
My sister pointed out that Joe Keery cut his hair, you know what it means…

— Carla ✨ @ 2 days !!! (@_Ackerbomb_) June 28, 2022
#StrangerThings4
Joe keery has cut his hair, he was contracted to not cut his hair. Does Steve die in volume 2 now that we have seen him with short hair?

— craig (@crazyhorse1970) June 21, 2022
I TOLD YOU WHEN HE CUT HIS STEVE HARRINGTON HAIR THE DAY BEFORE THE LAST DAY OF FILMING OF S4 WHICH WAS HIS LAST DAY OF FILMING THAT IT MEANT HE WILL DIE AAAAAHHHHH https://t.co/8n9NyJzonx pic.twitter.com/DJOkfrJ7bL

— ID: 조이스 (@shxxjnk_) June 24, 2022
the last time people got scared a character was gonna die because the actor cut their hair was carl grimes from twd, and…well we all know how that turned out so…let's hope steve harrington beats the death allegations cuz things aren't looking so hot

— bisexual steve harrington (@brvcewcynes) June 3, 2022
Since the cast of the series has warned fans that there will be some deaths in the show's finale, people are certainly worried for Steve. However, it may not be the end for the character, given how Shawn Levy, director of the show adores Steve. But we will have to wait and see what happens when Stranger Things 4 volume 2 releases this Friday.
ALSO READ: 'Stranger Things' and 'The Boys' Share THIS Unique Connection, and It Is Truly Makes a Magnificent Difference
What do you guys think? Are the fans correct, and Steve's life is in danger? Feel free to share your answers with us in the comments.