Millie Bobby Brown has too many celebrity friends on her dial list. The teen is super popular, from her friendship with Maddie Ziegler to Taylor Swift. Her friendly personality has earned her many friends in the circle. Even though at times, her bond with the other celebs does attract negative attention, people have often pointed out the large age differences between her and her so-called friends
But after all, age is just a number. While her bond with fellow co-star Noah Schnapp, Shiloh Jolie Pitt, and rapper Drake is often in the news, the teen also shares a lesser-known bond with ASAP Rocky. 
ALSO READ: "They could probably use the reminder"- Millie Bobby Brown Once Spoke About Online Bullying at 2018 MTV Awards
ASAP Rocky accompanied Millie Bobby Brown at Calvin Klein's show
At the 2018 Calvin Klein show, the teenager was sitting in the front row with ASAP Rocky. The two showed an amicable relationship as they posed for photos for the press. Brown placed her hand over Rocky's shoulder, and both threw a victory sign at the paparazzi. Rocky was sporting maroon red pants paired with a yellow striped sweater.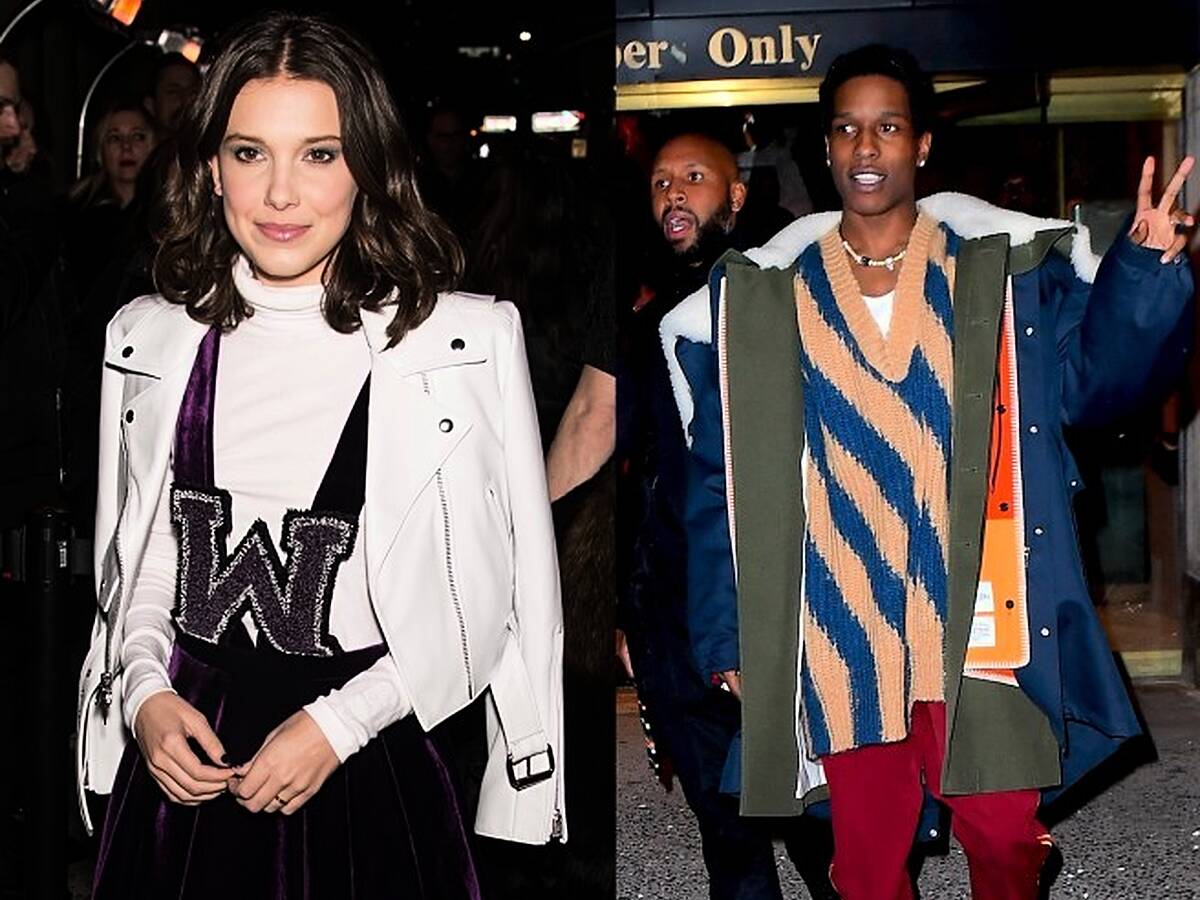 Brown, on the other hand, chose a more sporty look. She wore a purple velvet skirt with a suspender and full sleeved white top as the teen was sporting a shorter brunette look back then. Recently, she has swapped her long blonde locks for a short cute bob. Apart from the press photos, the fans got a glimpse of their close bond when Millie Bobby Brown shared a behind the scenes footage of the rapper looking around the building.
ALSO READ: "I'm not an expert"- 15-Year-Old Millie Bobby Brown Had to Apologize for a Fake Skincare Routine
She was seen taking a candid shot of the rapper while trying to contain a smile. The star had shared the story on her Instagram originally. This isn't the first time the duo has interacted. They were spotted together at the 2017 Calvin Klein show as well. We are guessing they formed a bond since then. 
.@asvpxrocky and @milliebbrown at the @CalvinKlein show.✌️
Video: HYPEBEAST pic.twitter.com/Hq3WTYWTKo

— HYPEBEAST (@HYPEBEAST) February 14, 2018
Brown is currently shooting for the fifth and final season of Stranger Things. She will reprise the role of Eleven one last time before saying the series goodbye. Brown has repeatedly mentioned how she loses her identity when playing different characters.
ALSO READ: When Millie Bobby Brown Revealed How Marvel and 'Harry Potter' Movies Are Not Her "Thing"
Do you think the friendship between the two is cute?