The fanbase that Cobra Kai has created is fabulous. But if you trace the journey, you'd find the great legacy which is continued and modernized in the present. Cobra Kai is a continuation of The Karate Kid franchise. There are 3 original movies in the sequence and others are based on this original storyline.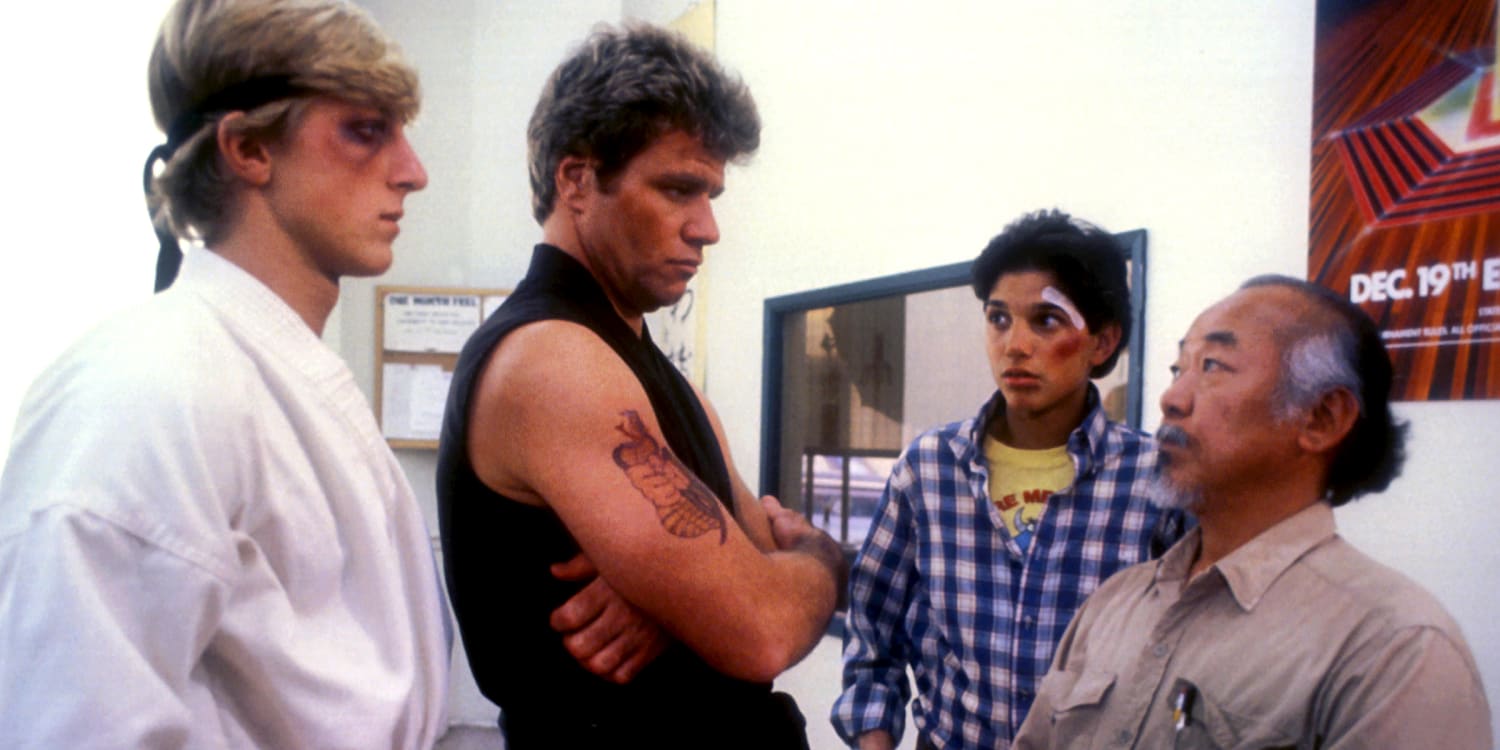 The Karate Kid is an American martial arts drama franchise. Robert Mark Kamen created a series of movies, which still hold a place in the hearts of the viewers. The series follows the journey of various coming-of-age teenagers. An experienced mentor trains and teaches these teenagers the ways of martial arts in order to stand up for themselves after being bullied, or assert their dominance towards others. There are five movies in total, followed by Netflix's Cobra Kai. Let us review the movies and see where the modern remake starring Jackie Chan fits.
Ranking of The Karate Kid movies
The first three movies of the franchise are in order and complete stories of the previous ones. The first movie of the franchise is The Karate Kid which came out in 1984, part 2 in 1986, and part 3 in 1989 followed by The Next Karate Kid in 1994. In 2010, the remake of the original movie by the same name was released, which stars Jaden Smith and Jackie Chan in lead roles. Here's how we've arranged them according to the rankings: 
The Karate Kid (1984)
Ranking: 7.3/10
The very first part of the franchise has the most ranking of all the movies in this series. Therefore, it stands at the first rank. This is where it all started. Daniel and her mother moved to California from New Jersey. She has a nice job. However, Daniel soon discovers that a dark-haired Italian boy, who has a Jersey accent, is not fit for the place he's in. In this very first part of the series, he meets his mentor and inspiration, Mr. Miyagi, who teaches him karate for defence. Mr. Miyagi likes to have Daniel as his student and teaches him with traditional methods.
ALSO READ: "Makes it sound like Mr. Miyagi is a vampire": 'Cobra Kai' Fans Point Out the Ridiculousness of the Ultimate Team-Up of Miyagi-Do and Eagle Fang
Part 2 (1986)
Ranking: 6.1/10
This part starts where the first one ends. In this part, we get to see Mr. Miyagi's different side other than being a mentor for Daniel. He takes Daniel to Okinawa where he encounters his old enemy. Meanwhile, Daniel also finds a love interest while making some enemies.
The Karate Kid (2010)
Ranking: 6.2/10
The 12-year-old Dre Parker has moved to China and finds himself unfit for the place. He befriends his classmate, Mei Ying. He makes a rival at the school named Cheng, who bullies him and attacks Dre. Soon, Mr. Han (Jackie Chan), the maintenance man of Dre's apartment, fights off Cheng. He even signs up Dre to fight in the Kung Fu tournament in return for his help. Even though Dre knows nothing about Kung Fu, he is ready to learn from Mr. Han, as he realizes Mr. Han is so much more than just a maintenance man. 
They also developed a student-mentor relationship. During his training, Dre realizes that Kung Fu is about self-defence and peace. It was never about violence and bloodshed.
The Next Karate Kid (1994)
Ranking: 4.5/10 
In this part, Mr. Miyagi meets the widow of his commanding officer during a commemoration for Japanese soldiers fighting in the US Army during World War 2. There he also encounters with her granddaughter Julie. She is an angry teenage girl who has lost both her parents and is still in pain.
ALSO READ: Did You Spot This Reference to The Next Karate Kid in Cobra Kai Season 4?
Julie is having problems with her grandmother and her peers. Mr. Miyagi teaches her karate to get her through pain. Therefore, he helps her in resolving her issues and to get back on the right path.
Part 3 (1989)
Ratings: 5.2/10
John Kreese, the founder of Cobra Kai, loses against Mr. Miyagi and Daniel. He goes to Terry Silver, a Vietnam War comrade, a ruthless business owner and a martial expert. He vows to help John take revenge on Daniel and his master, Mr. Miyagi while re-establishing Cobra Kai.
When Mr. Miyagi and Daniel come back from Okinawa, they discover their home has been demolished. Therefore, Mr. Miyagi loses everything, including his work. Going against his master's wish, Daniel uses his college funds and makes his sensei's dream of opening a bonsai tree shop come true. He also becomes a partner in the business.
This is how the rankings go. According to this ranking scale, the Jackie Chan and Jaden Smith movie stands in the third position. However, the preferences of each viewer may vary, but this one opinion would stay the same: The Karate Kid franchise has classic, legendary, inspiring and beautiful narrative movies. Watch all the movies here and share your opinions with us.