Cobra Kai season 5 is yet to come. Till then, we have seen pictures and a trailer of the upcoming season. They have revealed many unexpected events to happen. It has prepared the fans to be ready for the mind-blowing season of the show. While we await the release, the fans realized some changes in the show. They have been noticing minor details as well. One of the conservation and prediction about the upcoming season is about Johnny Lawrence's Eagle Fang Karate. Let's find out together.
Will Eagle Fang Karate be in Cobra Kai season 5?
As agreed by Daniel and Johnny in season 4, if they lost the All-Valley Tournament; they would shut their dojos. The finale of season 4 was full of drama, which made the viewers curious about the next season. While we are waiting for the episodes to stream, all we have so far are the official photographs and a trailer. From them, we get to know that some characters from The Karate Kid movies would return. Many students have changed their dojo to join Cobra Kai while Miyagi-do seems to not exist anymore.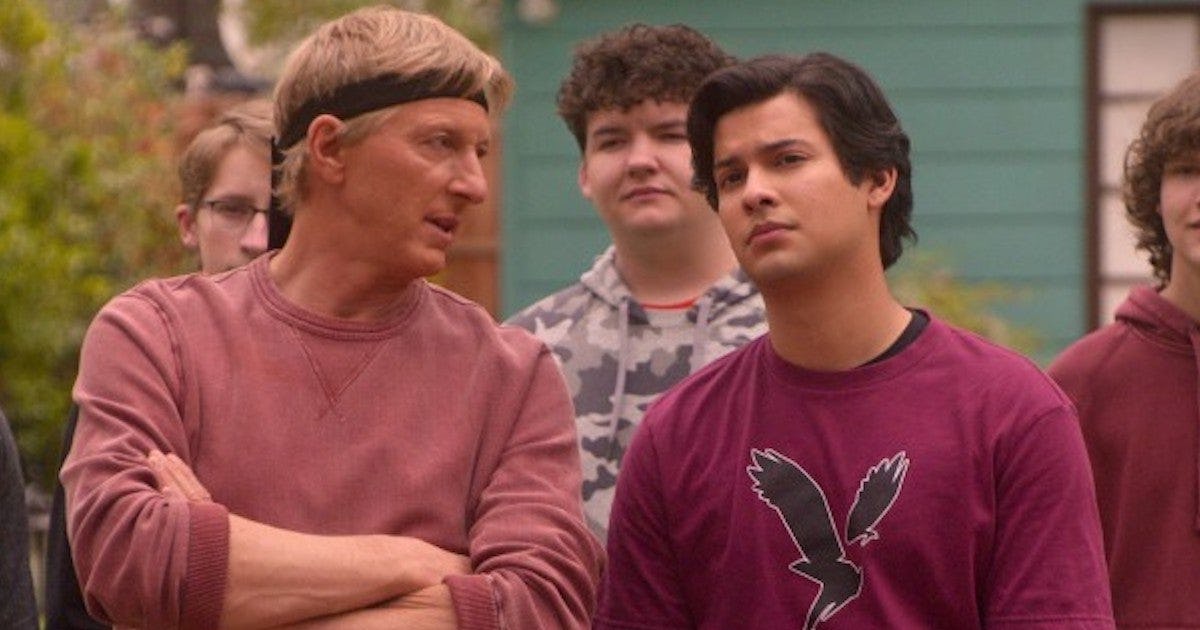 Between all these dramas, we see Daniel bringing Chozen back to continue the fight with Terry Silver. A former Eagle Fang student switched her teams to take the side of Cobra Kai. While we expected Tory to leave Silver's side, surprisingly, she's still with the same dojo. However, all these pictures are a bad sign for Johnny's Eagle Fang Karate. While Johnny and Robby make peace with each other, Miguel goes away to find his own father. Another surprising event we saw in the trailer is Johnny trying to tie Miguel and Robby by saying, "We're all friends now."
ALSO READ: From Hawk vs Kenny to Miguel vs Robby, Fans Predict the Pool-Side Fight in 'Cobra Kai' Season 5
However, there is still uncertainty about the role of Eagle Fang Karate in season 5. But till now, it seems that the show has forgotten about the third dojo of the show. The merging of Eagle Fang and Miyagi Do is another thing that is yet to unfold its fate. They both have two different styles of karate. So, it must be difficult to combine them together.
While we are still waiting for more details about the new season, tell us your theory about the fate of Eagle Fang Karate of Johnny Lawrence.
ALSO READ: Eagle-Fanged Fans Spot 'Naruto' References in 'Cobra Kai' Season 5 Trailer