Ryan Reynolds is by far the busiest actor in Hollywood. While everyone takes a break after a project is done, the Free Guy actor is not one to go off the map for some time. While preparing to reprise his role as the Merc with a Mouth in Deadpool, the man even has time to buy a whole football team and even create a documentary series on it. 
He co-owns the Wrexham AFC with Rob McElhenney. Just a few weeks back, the duo was promoting the finale of the Hulu docuseries when they talked about a cameo in It's Always Sunny in Philadelphia came up. And now it looks like the funny guy in Hollywood has found time to appear in the sitcom as well!
ALSO READ: Blake Lively Once Revealed Her Childhood Crush and to Everyone's Surprise He Has Interviewed Ryan Reynolds
FX Network and It's Always Sunny in Philadelphia share sneak peek of Ryan Reynolds at Paddy's
It seems like Ryan Reynolds has taken McElhenney's offer. Recently, the FX Network that airs It's Always Sunny in Philadelphia shared some stills of the Deadpool actor stopping by at Paddy's. At least that is what it looked like. They also shared a very short clip. Despite such little content, it has already ignited the hope of the fans that they might see the Canadian as Mac's boyfriend!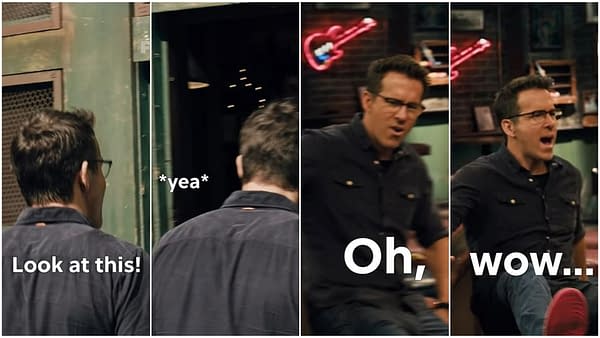 During the BuzzFeed interview with puppies, the father of three was asked if he would ever guest star in the sitcom. To that, he expressed his enthusiasm and threw McElhenney under the bus. He claimed that they had discussed this before and he was "personally offended" for it never happening. McElhenney pacified him and assured him that he might arrange something. After all, he is the creator of the offensive comedy. He offered the role of Mac's boyfriend, and of course, the Deadpool star gladly accepted it. 
Now it does look like McElhenney made it happen. However, we do not know whether Reynolds plays his love interest or not. Nevertheless, the Canadian actor can just blend in easily with the rest of the gang with his brilliant comedic timing! 
ALSO READ: Ryan Reynolds and Bradley Cooper Crossed Paths on Halloween Week in New York, but It Wasn't for a Movie Shoot
Are you ready to see him make a cameo in one of the longest-running comedy shows on TV? Let us know in the comments below.