Every day, Netflix finds a way to surprise us. Sometimes it is with a sports documentary, sometimes a true-crime thriller, and a hundred different themes and stories it covered. But not every day do you find something as interesting and interactive as the new Netflix animated show, Cat Burglar. But even if you are someone who is still on the edge; we are here to help you.
Well, truth be told, Cat Burglar is an experience that you should definitely have on your own. The show is more like a game. And even though you will figure out the story and a say to win it soon, it is addictive. However, below we have collected some reviews for the Netflix Original that may just help you decide about Cat Burglar on Netflix.
Cat Burglar on Netflix: Reviews
The script, with its myriad twists and earnest embrace of bygone animated wackiness, is sharp and funny no matter which scenario unfolds. It almost makes you want to mess up a little, if only to see more of the bizarre turns the heist might take. When you do get to the end, and Rowdy reveals another new painting (there are seemingly seven possible masterpieces up for grabs), it's undeniably satisfying to "win" the game. "Black Mirror" might be fueled by revealing harrowing truths about the evolution of technology, but it's a relief to realize that "Cat Burglar" is simply here to delight in its possibilities that are just plain entertaining.
It's Cat Burglar's seemingly endless cycles of animation that makes this experience so engaging. There are so many questions, ways to die, and background jokes, it's nearly impossible for one play through to look like another.
If you attempt to watch Cat Burglar in the normal Netflix manner, splayed on the sofa, the cat comes on screen shouting at you in an accent straight out of Top Cat. Don't just sit there, you muppet: interact!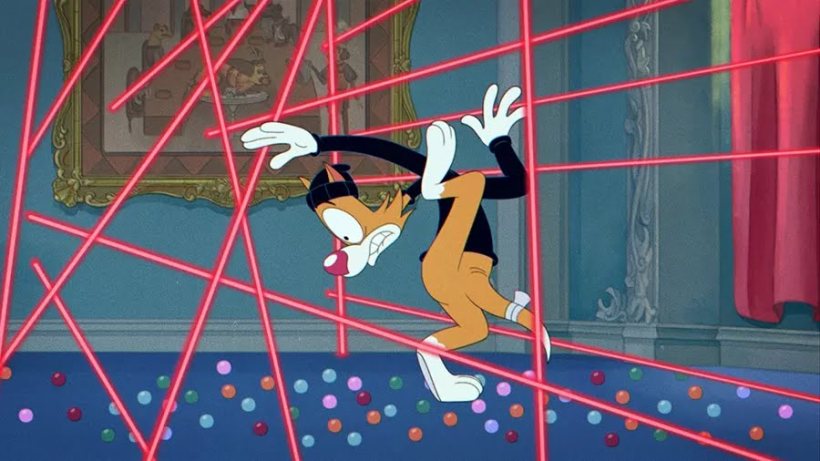 ALSO READ: From the Creators of Black Mirror, How 'Cat Burglar' Coming on Netflix is Not Just Another Cartoon But Much More?
All in all, this is a very entertaining watch. And don't be surprised if children replay/rewatch Cat Burglar so that they can view all of the different scenes/endings.
It's ultimately a pity this element was bolted on. The film runs to around 13 minutes as you guide Rowdy on his adventures. Yet within that story is concealed some 50 minutes of animation. And so to enjoy the entire thing, you'll have to play again and again, deliberately flubbing questions to ensure Rowdy dies at various points along the way. That soon becomes a chore. And a shame, as the cartoon itself, delivers top-notch nostalgia.
Tell us what did you think about Cat Burglar on Netflix?
.